It seems pretty trivial, right?? Just buy a brush and keep it moving!
But you should never underestimate the power that your hair brush has on the health and look of your hair. Making the wrong choice can mean breakage, frizz, dull, or flat hair. I know… Eww.
The first rule of hair care is: Do no harm!! So let's find your strands the perfect detangling tool!
For Straight, Smooth, or Fine Hair: Wooden Comb
The benefits of a wooden comb seem to be endless! They are said to increase blood circulation to the scalp, which promotes hair growth. It also does a better job of distributing the scalp's natural oils to the rest of the hair shaft, unlike combs and brushes made with plastic or silicon. Also, the density of the wood creates less static, which reduces breakage.
But be sure to cleanse and care for your wooden comb properly because it can swell and splinter when wet.
Check out this 3-piece Wooden Comb Set on Amazon for just $15!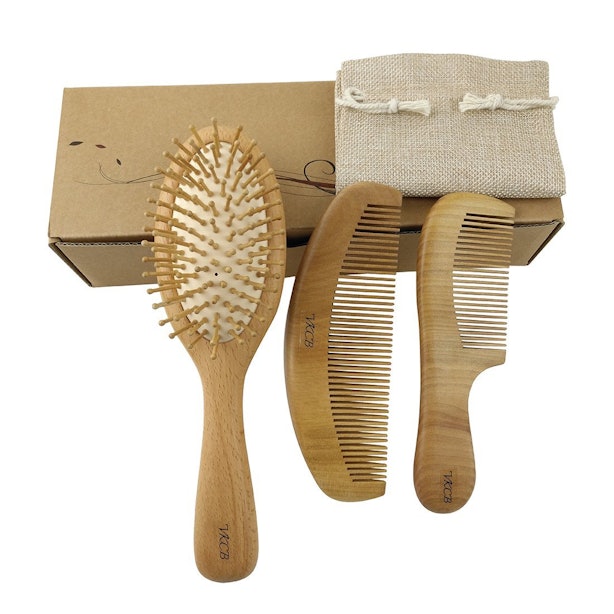 For Curly, Thick, or Coarse Hair: Denman Brush
The Denman is a Godsend for the Curlfriends!! The flexible, bulb-free teeth on this brush prevents snags, breakage, and frizz. It also has the potential for cutting your detangling time in HALF!! "How?!"
Once the brush passes through the hair, it perfectly and naturally coils the strands together, making them smooth by evenly distributing moisture and products from root to tip. This keeps from having to pass the brush over the same sections multiple times and also prevents those pesky single-strand knots that later have to clipped off.
But keep in mind that this brush works best when hair is wet or damp.
You can find the Denman brush at Sally's beauty supply store for around $13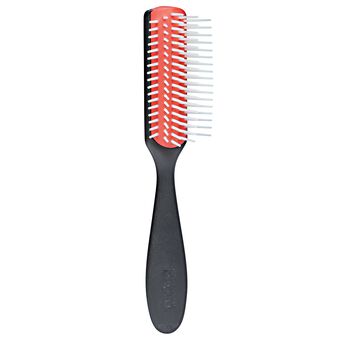 For Wavy Hair: Wide Tooth Comb or Modified Denman
Shout out to the wavy girls because a lot of people can underestimate the complexity of care that comes along with these strands. Wavy hair is prone to the most damage because it is typically thinner, yet frizzier than straight or curly hair.
A wide tooth comb is best for this type of hair because it defines the wave-pattern, keeping the hair tangle- and frizz- free, which are usually the culprits of the damage that Wavy Ladies experience.
Another option is to used a modified Denman brush. What a lot of people don't realize is that you can customize your Denman. This simply means that you are able to open the brush and remove single rows of teeth, making it a wider toothed brush. This works perfectly for wavy hair because it offers wave definition as well and volume, minus the breakage!
We suggest using these methods with wet or damp hair and allowing the hair to air dry. Once it's fully dry the volume will come into play and you will notice a dramatic decrease in frizz!
Here is a great Wide tooth comb for just $8!
What's your favorite detanlger?? Let us know!